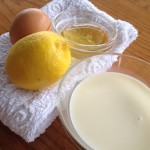 A nutritional bath uses 1 cup of raw bath milk, egg, honey and lemon.
I have prepared these instructions for Developing the Self  Developing the World, hence you will also find them on that website.
Download the instructions here.
Follow the instructions closely to gain the most benefit from this therapeutic bath. Please don't have a nutritional bath when you are fevering or taking medication (or using drugs). And if you are pregnant you should first consult with me or your anthroposophic practitioner before dipping into this bath.
It's simple, protein filled warmth is very powerful.
Please phone me if you have any questions.