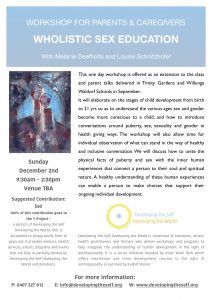 This one day workshop is offered as an extension to the class and parent talks delivered in Trinity Gardens and Willunga Waldorf Schools in September.
It will be offered by Melanie Deefholts and Louise Schnitzhofer on Sunday December 2nd from 9:30am – 2:30pm
It will elaborate on the stages of child development from birth to 21 yrs so as to understand the various ages sex and gender become more conscious to a child, and how to introduce conversations around puberty, sex, sexuality and gender in health giving ways. The workshop will also allow time for individual observation of what can stand in the way of healthy and inclusive conversation. We will discuss how to unite the physical facts of puberty and sex with the inner human experiences that connect a person to their soul and spiritual nature. A healthy understanding of these human experiences can enable a person to make choices that support their ongoing individual development.
Sunday December 2nd     9:30am – 2:30pm         Adelaide venue TBA
Suggested Contribution: $60
100% of this contribution goes to the Y Project – a section of Developing the Self Developing the World, that is accessible to young adults from 16 years old. It provides mentors, health services, artistic programs and events that are fully or partially funded by Developing the Self Developing the World and donations.
Developing the Self Developing the World is comprised of educators, artists, health practitioners and farmers who deliver workshops and programs to help integrate the understanding of human development in the light of anthroposophy. It is a social initiative founded by Inner Work Path which offers meditation and inner development courses in the light of anthroposophy as outlined by Rudolf Steiner.
To book or enquire please email info@developingtheself.org or phone Melanie on 0407 327 812