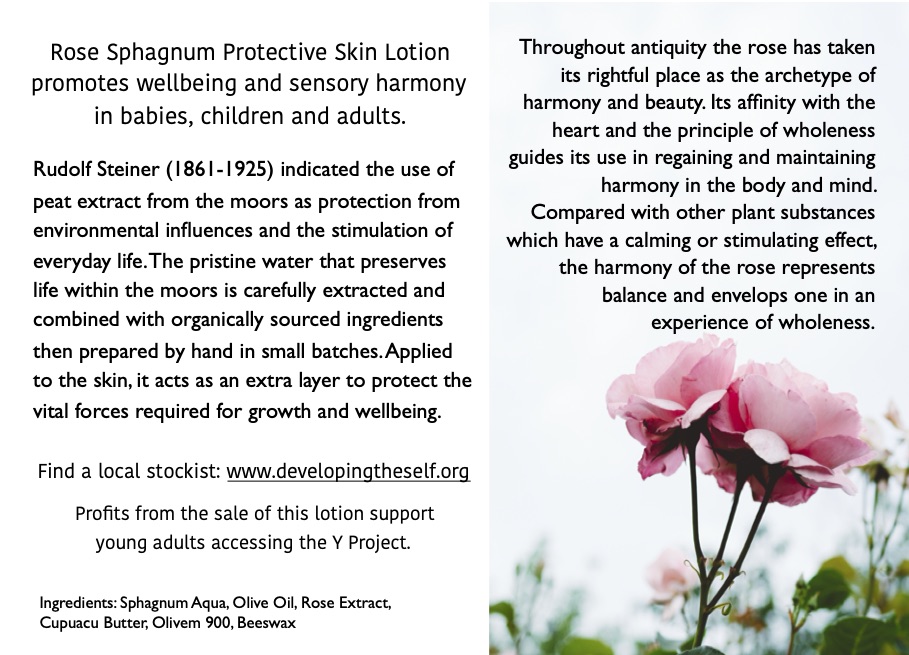 Rose Sphagnum Protective Skin Lotion is an emulsion that has natural protective qualities. When applied to the skin it helps maintain a healthy balance in the fluids sitting just under the skin that are effected by such things as travelling in aircraft or fast moving vehicles, stress and radiation. It provides a 'second skin' and reduces the impact of the environment on a child's growing body. In anthroposophic medicine it can be used in rhythmical massage and/or as preventive healthcare as part of a daily rhythm. Rose is chosen for daily application for children under 7 years and the primary care-giver. In these years we aim to provide the most 'heart-like' environment as the child will use this as their gage of balance in later life. Lavender, calendula, citric, sandalwood, rosemary and more varieties may be prescribed.
The Sphagnum Lotion by Developing the Self Developing the World is specially prepared to support wellbeing and sensory harmony in babies, children and adults. It complements the care and protection that a caregiver provides to their child for the development of the senses. The formula has been thought through so as to nourish and bring harmony to all ages and those with sensitive skin. 100% of profits go towards the Y Project, a section of Developing the Self Developing the World that is accessible to young adults from 16 years old and provides mentors, health services, artistic programs and events that are fully or partially funded.
Ingredients: Sphagnum Aqua, Olive Oil, Rose Extract, Cupuacu Butter, Olivem 900, Beeswax
Rose Sphagnum Protective Skin Lotion is free of alcohol and other preservatives; it is best used within 3 months of opening. The living nature of the ingredients are affected by environmental changes. It is recommended that the lotion be stored at a moderate temperature as the contents can solidify in temperatures below 20℃ and separate in temperatures above 30℃. Shake the bottle well to combine the lotion before application.
This is a bodycare product thereby not registered with the Therapeutics Goods Administration. Always seek health professional advice for disease, sickness or ailments.