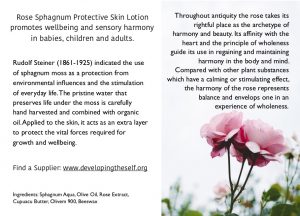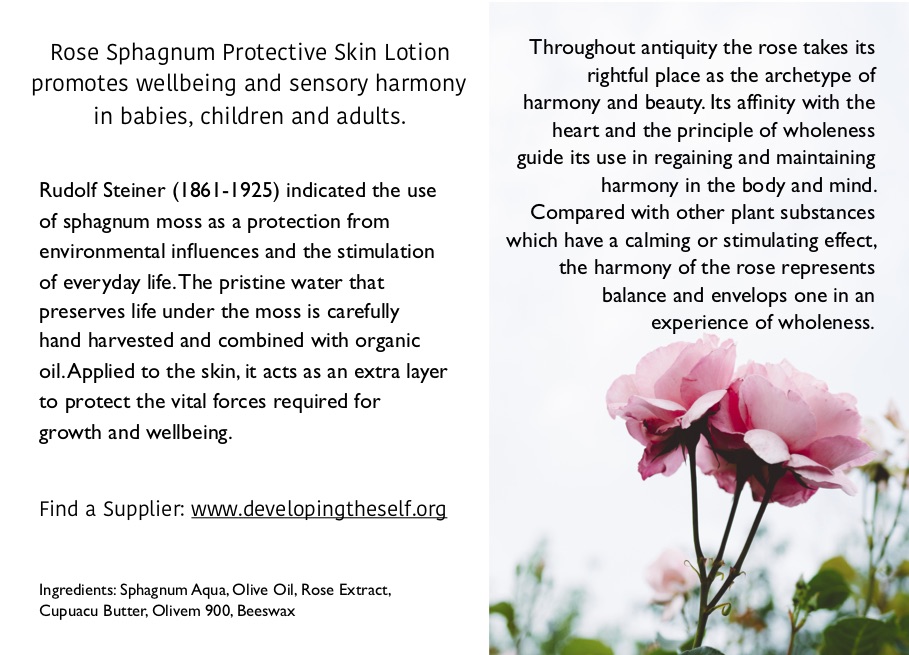 This Sphagnum Lotion is specially prepared by Developing the Self Developing the World to support wellbeing and sensory harmony in babies, children and adults. It complements the care and protection that a caregiver provides to their child for the development of the senses. The formula has been thought through so as to nourish and bring harmony to all ages and those with sensitive skin. 100% of profits go towards the Y Project, a section of Developing the Self Developing the World that is accessible to young adults from 16 years old and provides mentors, health services, artistic programs and events that are fully or partially funded.
Ingredients: Sphagnum Aqua, Olive Oil, Rose Extract, Cupuacu Butter, Olivem 900, Beeswax
Rose Sphagnum Protective Skin Lotion is free of alcohol and other preservatives; it is best used within 3 months of opening. The living nature of the ingredients are affected by environmental changes. It is recommended that the lotion be stored at a moderate temperature as the contents can  solidify in temperatures below 20℃ and separate in temperatures above 30℃. Shake the bottle well to combine the lotion before application.
Throughout antiquity the rose has taken its rightful place as the archetype of harmony and beauty. Its affinity with the heart and the principle of wholeness guide its use in regaining and maintaining harmony in the body and mind. Compared with other plant extracts which have a calming or stimulating effect, the harmony of the rose represents balance and envelops one in an experience of wholeness.
Rudolf Steiner (1861-1925) indicated the use of sphagnum moss as a protection from environmental influences and the stimulation of everyday life. The pristine water that preserves life under the moss is carefully hand harvested and combined with organically sourced ingredients and. prepared by hand in small batches. Applied to the skin, it acts as an extra layer to protect the vital forces required for growth and wellbeing.
This is a bodycare product thereby not registered with the Therapeutics Goods Administration. Always seek health professional advice for disease, sickness or ailments.