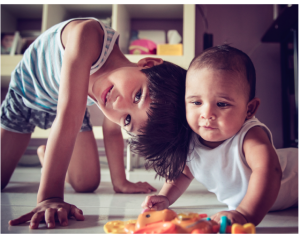 The basis of the practise at Sea Salt is to look for what is unique to each child and support parents to provide an environment that gives the child what they need to develop and participate in life in a healthy way. How each child experiences and copes with illness and life leads us to parent and treat them in slightly different ways. Too much or too little protection or exposure can create unhealthy patterns in areas such as behaviour, illness and sleep.
The prescriptions made by Louise include natural remedies to be taken orally, and therapeutic applications of medicinal plants and substances in the form of massage, baths and compresses. Children are very responsive to these therapeutic applications and parents who use them often as part of a home healthcare routine find them to be most beneficial.
An initial consultation allows 1 hour to converse and build a picture around your child's health including birth, milestones, sleep, digestion, behaviour, sensory development, susceptibility to illnesses and environmental influences.
The consultation is a combination of conversation with the parent(s) and observation and general conversation with the child. Having time without the child being present helps to obtain information that the child need not hear.
Remedies often referred to as 'drops' are generally taken every day for a month or so until we review in a subsequent consultation.At this time we discuss changes in the original presenting symptoms and review the way the child is coping with any ongoing conditions, changes in their sleep, energy, appetite and moods, and anything else that may have arisen.
Sometimes processes that are unresolved or dormant from previous illnesses or life events come to the surface. This is all taken into consideration with each consultation so that if need be the prescription can be altered to support your child's progress.
The aim is to bring unhealthy processes to completion. By overcoming illnesses and difficulties we become more resilient and firmly rooted in ourselves. Should the child meet the same or similar disease or struggle again in life they have built resilience to it..
Whether a child is presenting physical, emotional or mental symptoms they draw upon the adults around them to gain strength and confidence to come out the other side.
Sensory development is a special interest of Louise's. She works alongside parents and teachers at Mt Barker Waldorf School and Milkwood Steiner School to support the healthy foundational development of the senses throughout early childhood. She also works with older children and adults to harmonise the way the senses have been developed because sensory processing is so influential on the ability to learn, digest and socialise.
Many parents choose to consult and work on their own health and other issues that may be influencing their child's health.
To enquire about consultations or workshops please call 0439 896 025 or email louise@seasalthomeopathy.com.au